This image has been resized to fit most screens. Use the "Normal" Resize Image control to view the image at full size.
Resize Image: Half ◊ Normal ◊ Large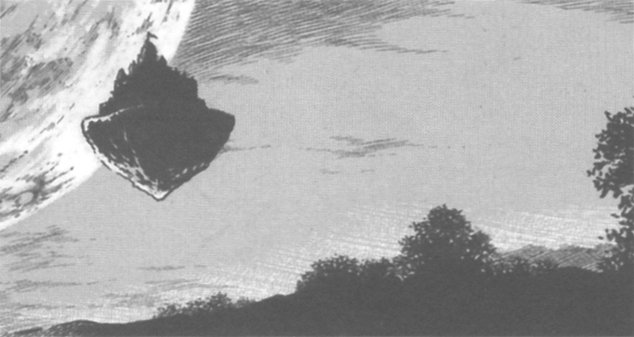 Resize Image: Half ◊ Normal ◊ Large
Image of the Day - February 25, 2011
Like other Phantasy Star books, The World of Phantasy Star contains both color pages and black-and-white sections. This drawing is the first illustration used in the latter. In the deep of night, Lassic's castle floats across the moonlit skies of Palma. It appears to be hovering over a forest, but the exact location cannot be determined from this piece. Typically the castle was rendered invisible, making the time frame of the illustration equally uncertain. Perhaps the castle has just begun to float, or perhaps Alis has used the Aero-prism and explores the caste during this scene.
3 Comments ◊ More Images of the Day
Details
Image Source

Text Link BBCode

Image Link BBCode

Tags