This image has been resized to fit most screens. Use the "Normal" Resize Image control to view the image at full size.
Resize Image: Half ◊ Normal ◊ Large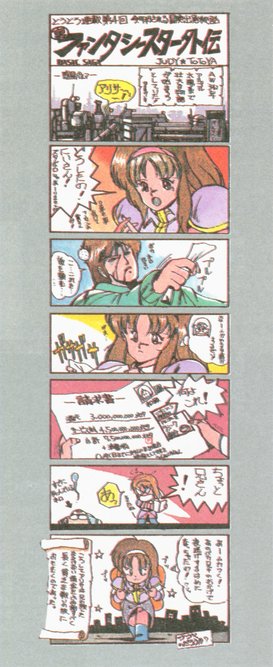 Resize Image: Half ◊ Normal ◊ Large
Image of the Day - February 06, 2011
This comic strip by Judy Totoya (Yasushi Yamaguchi) originally appeared in SPEC #3 and is the first of two SPEC strips reprinted in The World of Phantasy Star. The comic retells the beginning of Alis' quest and Phantasy Star, with a more humorous spin. We are introduced to the heroine, Alis Landale as she comforts her dying brother, Nero. Nero passes her a paper, which is revealed to be a debt of 7,500,000,000 meseta. In this take, the unhappy maiden sets off not to avenger poor Nero, but to avoid the poor house!
4 Comments ◊ More Images of the Day
Details
Image Source

Text Link BBCode

Image Link BBCode

Tags