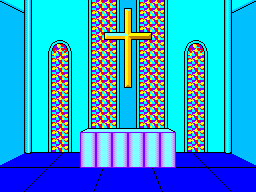 Resize Image: Half ◊ Normal ◊ Large ◊ Larger
Image of the Day - January 15, 2011
When Phantasy Star was made in the 1980s, developers were less concerned with potentially alienating customers by including religious references in video games. It was common to see priests used as a vehicle for the revival of defeated characters or saving games. Many times, these priests could be found in churches. This image is the interior of such a church as seen in Phantasy Star. Like those in other games from the same time period, this one uses some clearly Christian imagery to represent religion. The giant cross eliminates any doubt as to intended function of this building.
6 Comments ◊ More Images of the Day
Details
Image Source

Text Link BBCode

Image Link BBCode

Tags

This item has no tags.