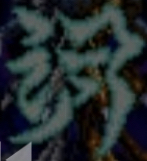 Resize Image: Half ◊ Normal ◊ Large ◊ Larger
Posted by Zio_Falz
I am not artistically inclined, especially when it comes to digital things.

Do you know when you kill things, in Phantasy Star IV, Elsydeon leaves this symbol, which looks like Kanji, but it is not.

Anyway, is there anybody out there that could actually do a brother a favor and make a tighter, smoother, digital image of this please?

Thank you very much.
1 Comments ◊ View More From Zio_Falz
Details
Related Products

Text Link BBCode

Image Link BBCode

Tags