This image has been resized to fit most screens. Use the "Normal" Resize Image control to view the image at full size.
Resize Image: Half ◊ Normal ◊ Large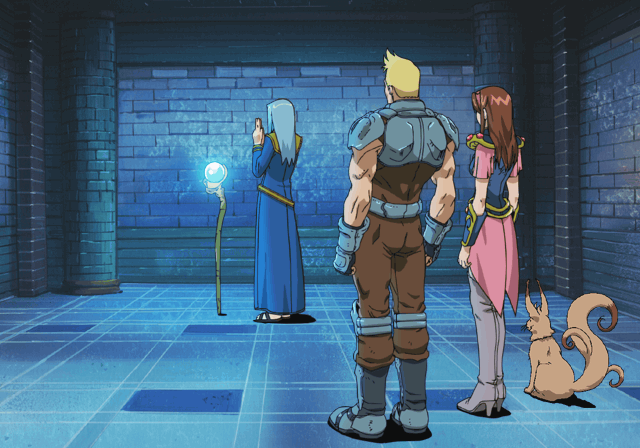 Resize Image: Half ◊ Normal ◊ Large
Image of the Day - July 20, 2012
In the deepest part of the cave north of a Paseo, our trio of companions has located the young wizard recommended to them by Motavia's governor. Lutz is deep in study when they approach. His concentration is focused on the glowing sphere, which might be a precursor to the Telepathy Ball seen in Phantasy Star IV.

The scene gives us our first good glimpse of the all our main characters from the rear. It also provides a great height comparison, showing us that Odin is nearly a full head taller than Alis. Myau appears to be around the size of a large house cat, nearly reaching the knees of the humans. The Musk Cat's tail, however, clearly matches his ears in being longer than those of real life cats.
13 Comments ◊ More Images of the Day
Details