Resize Image: Half ◊ Normal ◊ Large ◊ Larger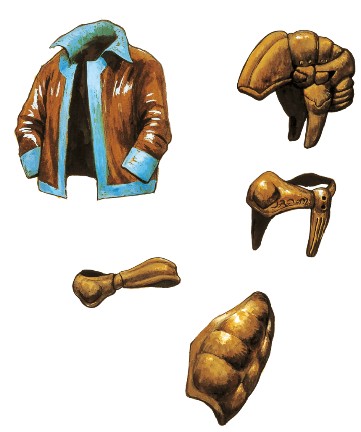 Resize Image: Half ◊ Normal ◊ Large ◊ Larger
Image of the Day - October 04, 2011
In this image, we are provided a look at the appearance of some of the basic protective equipment available in Phantasy Star IV. Originally appearing in the Japanese game manual, each drawing was labeled with the name, price, and description of the product it represented. All of these items are protective leather gear made from the skin of sand worms found on Motavia. At the top are the Leather Cloth and Leather Helmet. Below those are the small Leather Band and a woman's Leather Crown, other types of head wear. At the very bottom is the Leather Shield.
1 Comments ◊ More Images of the Day
Details
Image Source

Related Products

Text Link BBCode

Image Link BBCode

Tags

This item has no tags.