This image has been resized to fit most screens. Use the "Normal" Resize Image control to view the image at full size.
Resize Image: Half ◊ Normal ◊ Large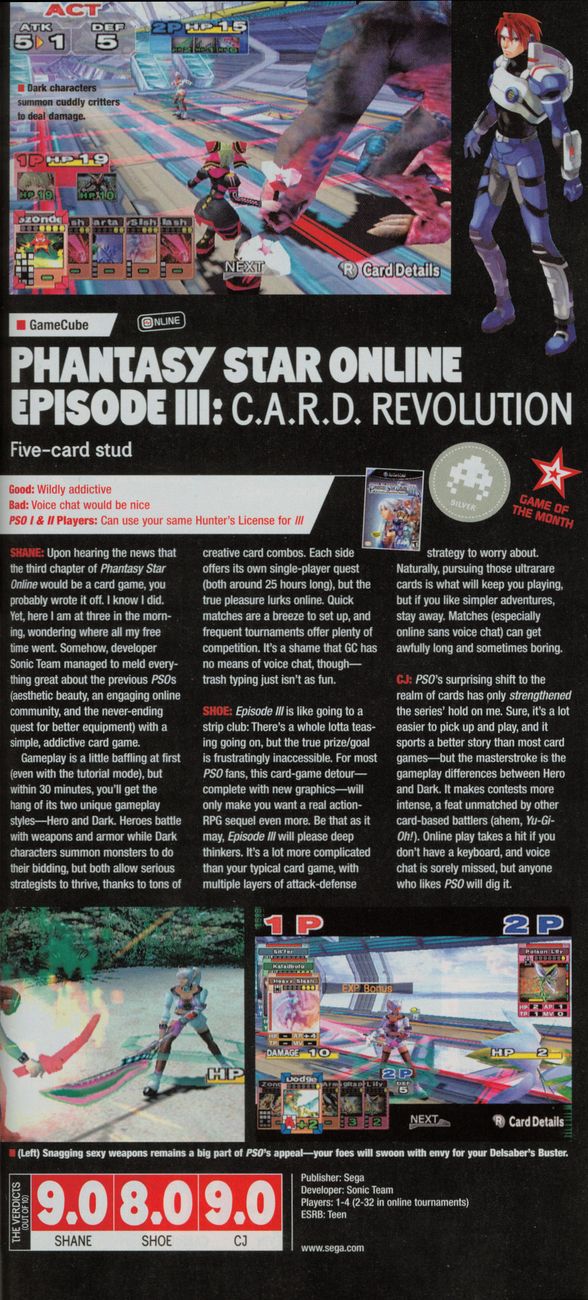 Resize Image: Half ◊ Normal ◊ Large
Image of the Day - August 12, 2011
In issue #177, from April 2004, Electronic Gaming Monthly provided a brief review of Phantasy Star Online Episode III. The three reviewers focus on the game's switch to a card based gameplay system. All of them agree that the game adds new complexity to the series, but would have benefited from the addition of voice chat. They awarded the game the highest review score in this issue, making Phantasy Star Online Episode III the Game of the Month. Even so, the article only spans about two thirds of the page. The remaining third, not included in this scan, is an unrelated advertisement. For the sake of comparison, the longest review in this issue is two full pages devoted entirely to Metal Gear Solid: The Twin Snakes, which scored a mere half point lower on the review scale.
0 Comments ◊ More Images of the Day
Details
Image Source

Related Products

Text Link BBCode

Image Link BBCode

Tags

This item has no tags.