Resize Image: Half ◊ Normal ◊ Large ◊ Larger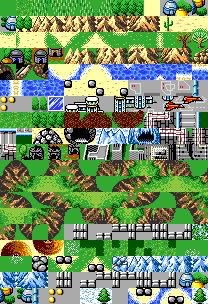 Resize Image: Half ◊ Normal ◊ Large ◊ Larger
Image of the Day - November 17, 2010
Almost all of the tiles used to create overworld maps in Phantasy Star - Deluxe Edition are contained in this sprite sheet. Each map is created during game play by looking up the tiles from this sheet and assembling them in the pre-arranged order needed by the map. There is a second, much smaller sheet that contains a few Dezoris map tiles. However, nearly everything for Dezoris can be found here, alongside all the icons for Motavia and Palma.
4 Comments ◊ More Images of the Day
Details
Image Source

Text Link BBCode

Image Link BBCode

Tags

This item has no tags.