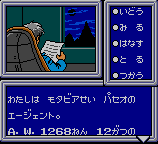 Resize Image: Half ◊ Normal ◊ Large ◊ Larger
Image of the Day - March 09, 2010
The opening scene of Phantasy Star Adventure gives us the only appearance of the game's main character, a mysterious and unnamed agent of Paseo, Motavia. The game is a little unclear, but it would seem that the rest of the game is an adventure the agent is remembering sometime later. In this scene, the agent is reading a letter he received in AW 1268, nearly twenty years before Phantasy Star II. His friend, Ken Miller, has invited him to visit Miller's home on Dezoris.
2 Comments ◊ More Images of the Day
Details
Image Source

Text Link BBCode

Image Link BBCode

Tags

This item has no tags.