This image has been resized to fit most screens. Use the "Normal" Resize Image control to view the image at full size.
Resize Image: Half ◊ Normal ◊ Large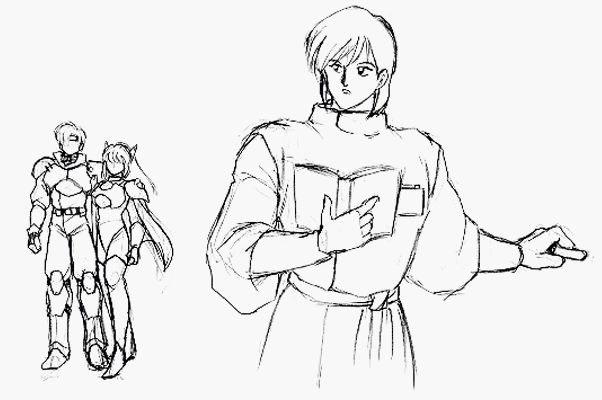 Resize Image: Half ◊ Normal ◊ Large
Image of the Day - November 05, 2010
When plotting the cutscenes of Phantasy Star IV, the staff at Sega drew references by hand before creating them as 16-bit, sprite based gaming graphics on a computer. In this example, we can see two scenes from the game ending. To the left, Rika and Chaz stand together, watching Rune Walsh walk off into the desert of Motavia. The positioning of Rika's body is quite different here than in the matching game scene. Oddly, the couple are missing all facial features. On the right, we get a glimpse at Hahn's life after battle. He teaches a class at the academy in Piata. The game version of this scene is mostly faithful to the sketch, but lacks the ID badge Hahn wears here. His second finger is also extended in the game.
2 Comments ◊ More Images of the Day
Details
Image Source

Related Products

Text Link BBCode

Image Link BBCode

Tags