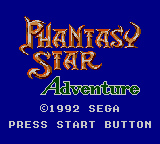 Resize Image: Half ◊ Normal ◊ Large ◊ Larger
Image of the Day - March 10, 2010
The title screen of Phantasy Star Adventure is very simple in appearance compared to other games in the series. Even the other text adventures have more detail than this entry. The plain blue background lacks the impact of the customary space scene. The slight change to the title font works fairly well, however.
4 Comments ◊ More Images of the Day
Details
Image Source

Text Link BBCode

Image Link BBCode

Tags

This item has no tags.