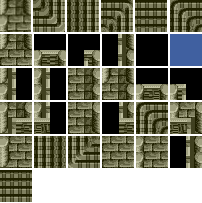 Resize Image: Half ◊ Normal ◊ Large ◊ Larger
Image of the Day - September 11, 2010
The inside of a Laya's Palace building is presented as individual tiles in this complete sprite sheet. Many of these same tiles are used in other ancient structures visited during the game as well. Places such as New Mota, Lashute, and the two moons use similar designs.
4 Comments ◊ More Images of the Day
Details
Image Source

Text Link BBCode

Image Link BBCode

Tags

This item has no tags.