Resize Image: Half ◊ Normal ◊ Large ◊ Larger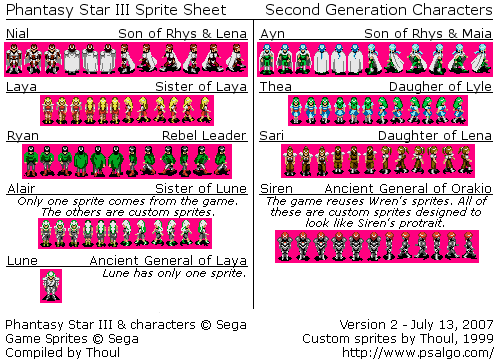 Resize Image: Half ◊ Normal ◊ Large ◊ Larger
Image of the Day - August 15, 2010
This sprite sheet is a side result of my old animations project. Included here are all the animation frames for the major second generation characters. Alair actually only has one sprite in the game, but it is a color swap of a sprite from one of the other women. I created extra frames for Alair by recoloring the matching frames from one of those other ladies.

Siren also had only one sprite in the game, but it was simply an exact copy of Wren. To give him a more unique set of animations, I recolored Wren's full set of sprites to match Siren's game portrait.

Lune is another character with only one sprite, but unlike almost everyone else in the game, his sprite is not reused from another character. He is actually unique.
4 Comments ◊ More Images of the Day
Details