This image has been resized to fit most screens. Use the "Normal" Resize Image control to view the image at full size.
Resize Image: Half ◊ Normal ◊ Large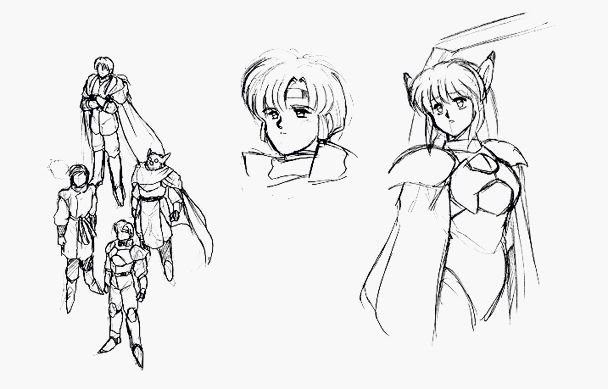 Resize Image: Half ◊ Normal ◊ Large
Image of the Day - July 25, 2009
Before the cutscenes of the classic Phantasy Star games were created as sprite-based game graphics, many of them were sketched in pencil like more traditional artwork. Phantasy Star Collection (Saturn) provides a look at several such sketches for the cutscenes of Phantasy Star IV. These scenes from the game ending detail the departure of the Landale. Rika, at the right, is boarding the spaceship. Wren, Kyra, Raja, and Demi are already inside, waiting to blast off on their way to Dezoris and Zelan. The other sketches - both the Chaz closeup and the four men together, come into the plot after the ship has launched; they are watching it leave. Chaz's expression in the closeup seems different than in the game; he does not look as sad here.
0 Comments ◊ More Images of the Day
Details