This image has been resized to fit most screens. Use the "Normal" Resize Image control to view the image at full size.
Resize Image: Half ◊ Normal ◊ Large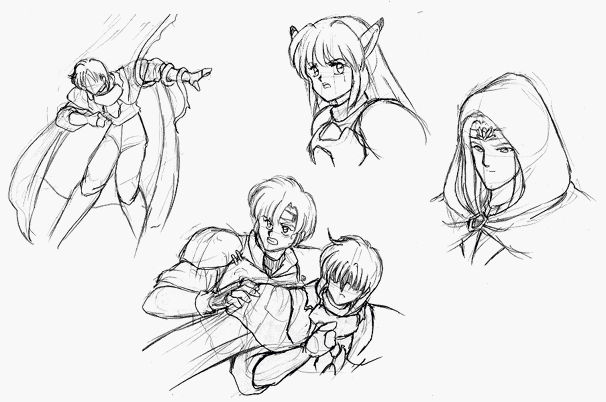 Resize Image: Half ◊ Normal ◊ Large
Image of the Day - July 22, 2009
Before the cutscenes of the classic Phantasy Star games were created as sprite-based game graphics, many of them were sketched in pencil like more traditional artwork. Phantasy Star Collection (Saturn) provides a look at several such sketches for the cutscenes of Phantasy Star IV. This group of sketches is quite varied. At the top, we see Rika as portrayed when the heroes examine the computers of Dezoris' climate control facility. The scene in the game is cropped to about half of the full sketch, however. On the right is a sketch of Lutz - and this is actually the Phantasy Star character, not Rune Walsh in his threads. This scene appears in the game shortly after the final two shown. Those scenes are from Kyra's introduction, when the party rescues her from a potentially gruesome fate.
2 Comments ◊ More Images of the Day
Details
Image Source

Related Products

Text Link BBCode

Image Link BBCode

Tags