This image has been resized to fit most screens. Use the "Normal" Resize Image control to view the image at full size.
Resize Image: Half ◊ Normal ◊ Large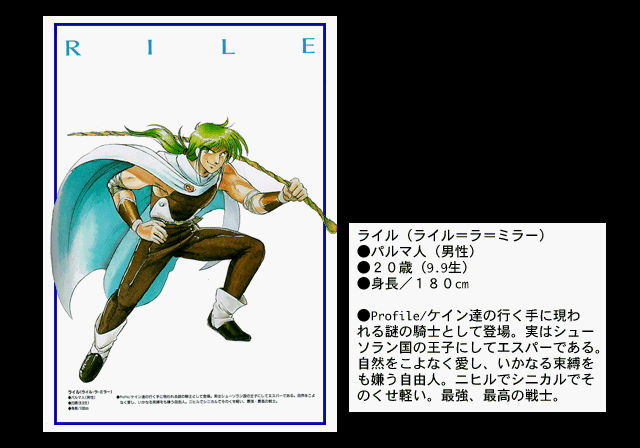 Resize Image: Half ◊ Normal ◊ Large
Image of the Day - June 17, 2009
In this profile, Lyle is named "Rile." It is kind of ironic, since he started off Phantasy Star III by making Rhys angry, or getting him "riled up." I wonder if the person that romanized the name for this profile was aware of the double meaning. The profile is reprinted from Phantasy Star Collection, where the left side of this image is a full page of that book. The tiny text at the bottom is provided in a larger form on the right, so that it can be read more easily in the Phantasy Star Collection (Saturn) art gallery.
4 Comments ◊ More Images of the Day
Details
Image Source

Related Products

Text Link BBCode

Image Link BBCode

Tags