This image has been resized to fit most screens. Use the "Normal" Resize Image control to view the image at full size.
Resize Image: Half ◊ Normal ◊ Large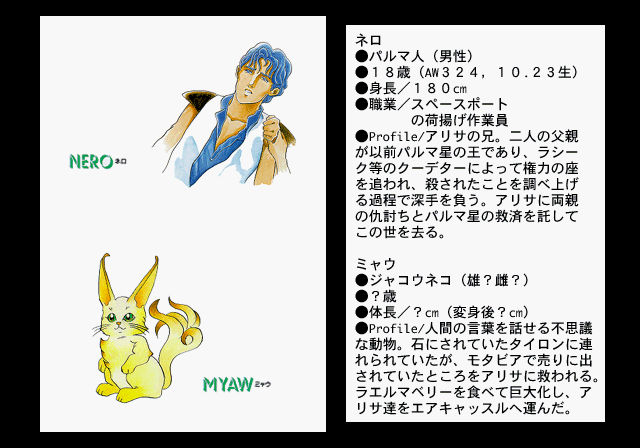 Resize Image: Half ◊ Normal ◊ Large
Image of the Day - June 14, 2009
Here we have a portion of Phantasy Star Collection reproduced in the Phantasy Star Collection (Saturn) art gallery. In the book, this was combined with a profile of Alis, with all of it being on one page. For Phantasy Star Collection (Saturn), it was split into two images - one for Alis and one for Nero and Myau. Alis did sneak into this one as well, though - or at least her hand did, holding her brother's hand. Nero's artwork has also been mirrored from the original version in the book. Check out his stats - we can see his age, birthdate, and height. Unfortunately, Myau's profile lacks all that information, treating us to an uncommon romanization of his name as "Myaw" instead.

Based on Nero's given age and birthdate, we can make a conclusion about when Phantasy Star begins. The game gives us a date of AW 342. Nero's birthday (of those given in this and similar profiles) is the latest birthday in a year. Since he is already 18 when the game begins and 342 - 324 = 18, we can tell that the game begins on or after his birthday in October.
7 Comments ◊ More Images of the Day
Details
Image Source

Related Products

Text Link BBCode

Image Link BBCode

Tags