Okay this thread will contain spoilers. I have chosen not to cover over them like I normally would because this is a starting post and it would make it look very untidy. You've been warned!
!SPOILERS PRESENT!
Just like with the Nei and Rika thread. Which PSU Numan do you prefer? There is a fair few in this game too. But only 3 become playable characters. Playable include, Karen, Maya, Mirei (Divine Maiden) and unplayable is Lord Rutsu and Karen and Mirei's Father. Personally I like Mirei the best

I like her personality she is very caring and she is a very friendly and warm character. She only becomes playable in Chapter 7 unfortunately. Then she dies at the end of Chapter 7…I was like OH NO! its like Nei all over again. Then Karen takes her place as the Divine maiden but she's not the same as Mirei she's a totally different character she's just wearing the same outfit, besides her hair is shorter

. Well Mirei is my favourite PSU Numan who is yours?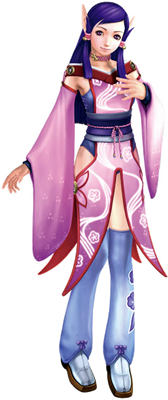 Mirei Mikuna (The Original Divine Maiden)
Last edited by Lucas on Fri May 28, '10, 12:38 pm, edited 1 time in total.