There is no truly excellent beauty that hath not some strangeness in the proportion.
-Franacis Bacon
--------------------
Katawa Shoujo
Developer: Four Leaf Studios.
Release Date: January 4, 2012.
Platform: PC
Genre: Visual Novel
--------------------
So, this may require a bit of explanation.
IN THE YEAR 2000
, a doujin author who went by RAITA (who, to best of my knowledge, is now the head character designer for Valkyria Chronicles), decided to have a little fun in the back of one of the Comiket fanbooks. He sketched out ideas and broad outlines for a few principal characters for a bit of a novelty dating-sim where the main character was perhaps disabled in some way, and went to a special high-school for disabled folks. The idea was tentatively titled "Katawa Shoujo"- literally, "Disability girls". His final words about it at the bottom of the page were basically- "Wouldn't it be funny if someone made this game? Fast forward to 2006 or so, and the sketch eventually made it to 4chan's /a/ board. Aside from the usual jokes, a few people said "This game
must be made
", and it appeared that some people actually took that challenge seriously. While the organization began on 4chan, the team eventually drew in about 21 different people from various countries, and work began in earnest, soon divorcing themselves from 4chan and forming their own entity, Four Leaf studios. In the middle of 2009, the first demo was released, and it was soon apparent that this wasn't going to be about endless cripple jokes or other such low shenanigans, but that this was going to be taken perhaps more seriously than anyone believed. After four more demos, some complete rewrites, and the usual intra-staff strife, the Visual Novel was finally released on January 4 of this year, becoming an immediate sensation in certain circles. For some, it was the indie game equivalent of
Brian's Song
. Stephen Lea Sheppard of VICE magazine called it, in essence "The best joke ever told at the expense of bad visual novels." (also "I'm glad this came out when it did, otherwise I'd have to review Modern Warfare 3) How does it stack up over here? Well, that's what reviews are about! for those of you interested in trying it yourself, the thing is entirely free- Aura, one of the writers, said that "Money would make things complicated, so we decided not to deal with it."
So, Katawa Shoujo is an original English-Language Visual Novel (which amusingly, a few Japanese folks are fervently working on a translation patch for). this is to differentiate it from a full-on dating sim, which keeps track of simulationist-level concerns via stats, timekeeping and other sorts of math that the player has to manage through various actions they need to take throughout the game. Katawa Shoujo dispenses with all of this math, opting instead for a rather pure storytelling experience, acting instead more like a choose-your-own-adventure graphic novel than what might be conventionally called a game. As there are FAQs for other VNs on GameFAQs, I have decided to class this as a game, despite the lack of math, as you, the player, can make bad choices throughout the run of the story that lead to experiencing a loss condition. Besides: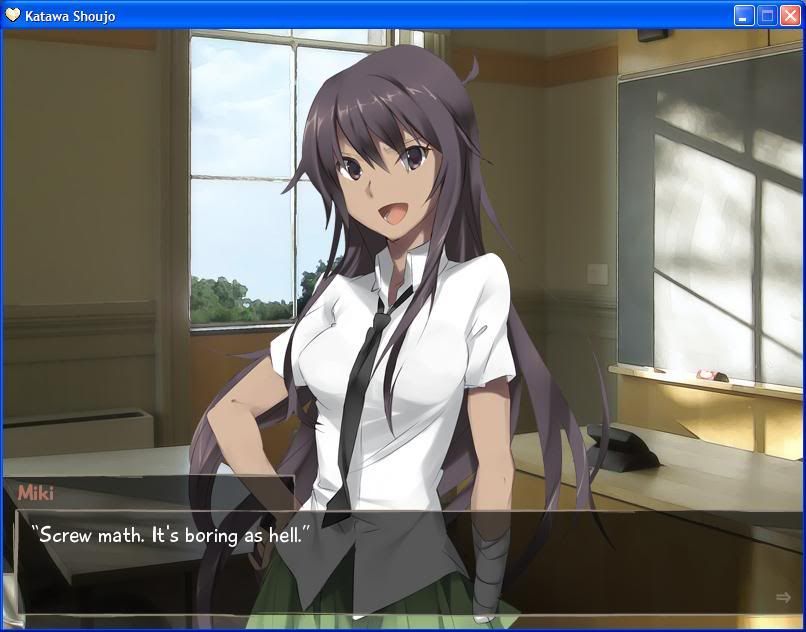 So, the plot of the game is roughly this: In a scene that might remind some folks of the endings of other visual novels, our dude, Hisao Nakai, has gone out into the falling snow, having received a letter from his school crush, Iwanako, saying that she really needed to tell him something, but in private. He arrives as obligated, and she begins to confess her love for him. the tension of the scene mounts, and Hisao begins to sweat, his heart pounds... and then suddenly stops entirely, causing him to keel over in the snow. Hisao Nakai, high-school student, has suffered a near-fatal heart attack.
After spending 4 months in the hospital with not much to do but read and endure the teacher-mandated sympathy of his classmates, Hisao is informed that he will be released, but that returning to his old school would be highly dangerous due to his Cardiac Arrhythmia, so he's being sent off instead to Yamaku Academy, a well-funded school made to handle the needs of the physically disabled like himself, leaving everything behind while only seeming to gain a stack of medications for his rebellious blood-pumper. The only upside that he can find in the whole raw deal is that he's actually getting what amounts to a fresh start- and where it goes from there is largely up to the player.
The story itself is divided into four acts. The first act is a "shared act", where you make the decisions that affect which girl's "route" you end up on. As each route was handled by a different writer to keep attrition from halting the whole project, it is best to think of Act 1 as a sort of "character creation"- where you influence the kind of person who Hisao might get entangled with. However, even with this influence, Hisao does remain his own distinct character throughout- he's hardly the faceless protagonist one might find in other VNs- whatever route you choose, Hisao does still have at least a fairly consistent and distinct "voice" with which he relates the proceedings. He is also minus the usual romantic-protagonist foibles that plague other similar characters in anime- he doesn't, as Deskimus Prime said "Have chest-attracting magnets in his hands when he trips." As he's the character the player will spend the most time dealing with, it's good that he doesn't have any "quirks" that overstay their welcome. Each route will take about 4-8 hours to play through, depending on reading speed- my experience was at the lowest end of that range.
So, there are five characters who Hisao can become caught up with. Shizune, the competitive, deaf, gets-things-done-at-all-costs student council president who relies on her overly-loud best friend Misha to communicate to the outside world. Emi, a girl who lost her legs below the knees in a car accident, but, thanks to prosthetics, is now the school's track star through sheer determination. Rin, a seeming space case who, despite lacking usable arms, has managed to make do being a talented artist though amazing control of her feet. Lilly, who is tall, classy, and enjoys tea, the open country, and reading even though she's limited to braille due to being blind from birth. Finally there's Hanako, a shy bookworm who has difficulties with people, and spends much of her school time in the back of the library, as books tend not to care much about burn scars (and yes, being a burn victim
is
considered to be disability in Japan- there was a great deal of research done for this game).
The five routes vary a bit in their general quality, but what one can expect is the conspicuous lack of forced drama- that is, drama haphazardly imposed on the story from the big ol' cliche box. There are no sudden drunk speeding drivers, and better yet, no vague yet terminal diseases that only affect love interests. Any drama that exists tends to flow naturally from the characters, and the game isn't really necessarily about 'fixing' the issues of others. Making it to the good ending means that everyone involved is better for the experience, certainly, but Hisao is a high school kid, not a therapist, and no one is going to undergo a full 180, personality-wise, but everyone does get better for the whole thing, which I think is really he best way to handle this sort of thing, considering the general timeframe. It's not as though any of the characters is really "broken", either, and that's even the whole point of at least a couple fo the routes. Careful attention is paid to how each of the characters get around their disabilities or deal with them, done generally though describing action rather than out and out dialogue. Shizune slams doors all the time because she can't really hear it, Lilly is talked about as moving slowly and deliberately in all of her actions, as she is not nearly as aware of her surroundings as the sighted folks- there's even a fun bit involving a special chessboard made for blind players. Of course, the game really isn't "about" the disabilities more than is absolutely necessary, which is probably he greatest strength- it is, ultimately, a game about people, people with flaws and beautiful things and all that essential human stuff that I think most other games generally lack.
The secondary characters that make up the rest of the cast are fairly few, and some are also rather route-specific, but most of them do have something to add, from atmosphere to even advice to point you towards the good ending. In fact, in another break from tradition, most of the adults actually have useful advice to hand out to our protagonist, rather than being stupid or even actively adversarial to Hisao's romantic interests- even the most aggressively jerkish of the adults doesn't even really try to stop the girl from being with Hisao.
As for the actual play of the game, I am given to understand that Katawa Shoujo hits a sweet spot, as far as decision points go. The solutions are neither glaringly obvious, nor actively counter-intuitive. While the solutions may not seem immediately clear, but do become apparent if you've been paying attention to not just the dialogue, but also the character's mannerisms- the writing does place a fair emphasis on conveying body language as well as actual dialogue, so you'd best read things outside of quote marks.

Just to be absolutely clear, however, the decision points are the entirety of the gameplay- it is, after all, billed as a visual
novel
.
Now, the thing I've kinda avoided talking about is the little rag on the side that reads: R18+. I've spoilered the following because genuine spoilers.
The thing about sex scenes in many visual novels is that they primarily exist as fan-service, and seem, in cases, generally written by people who have never really had sex before. Katawa Shoujo uses these scenes as much as storytelling tools as any story material that precedes or follows them. The writing places more emphasis on the mood of these scenes more than the actual acts themselves, as that's what the art is for, and there's a wide range of moods to be had in the few but varied scenes, all the way from awkward and uncomfortable to happy times to downright hilarious when a bit experimentation doesn't go as planned, and both parties vow to never try that crazy stuff again. This is also the first time for most of the characters, and Hisao is generally average- no first-time sex gods here.
Art is king when it comes to the presentation of visual novels, and KS doesn't really disappoint. the art does have a fairy consistent feel for most of the characters involved, despite the fact that the game had multiple artists on hand for such duties. The only weak point I can think of are the backgrounds, which are fairly obviously real life photographs given a photoshop filter (the exterior sots of Yamaku Academy are actually pictures of Brown University in New England, for example). Still, it does stand out for what's technically an "amateur" project.
The soundtrack is excellent. It doesn't overwhelm the scene each piece was attached to, acting, as music should, as a compliment to the other aspects of the scene, and the actual sound effects, while limited in use, are also properly used- most notably the ominous heartbeat that pops up at certain points that reminds the player that Hisao is the only character in the main cast whose disability is directly life-threatening.
---------------
Now, this would generally be the part where I come to a conclusion, but that's rather difficult, as KS seems to deliver an intensely personal experience, based on not only what character they connect with most, but indeed even on their own life experiences- such as how Veteran's Association psychologists seemed to connect most with Emi's route, and so on. So, the only experience I could reasonably expect to relate would be my own. Basically, after I played all five routes from front to back shortly after the game was released, I ended up being
completely unable
to play any other games for about two months afterwards (and I certainly tried). I'm not saying this to hype the game, and your own after-play experience would very likely be very different than mine, but this has never, ever happened before, and I'm what some might consider to be an old-school gamer- the original NES was my third gaming platform, my first roguelike was Rogue, and I can't say a game has ever had such an effect on me before. while I still stand by most of my Freespace 2 review, which as written pre-KS, I came out of the whole thing willing to be a fair bit harder on all games, even ones generally considered to be 'classic'. So even if i didn't come out of it as a better person, I think i came out of KS as a better gamer, at least.
So, really, I do at least recommend giving this game a try, and see what happens. no better price than free.
--------------------
Screenshots: