Okay big thanks to Xander for refreshing my memory. I took these photos last year when my family and I went to Malanda Falls for a holiday in October. It really is lovely up there. The country gets very different when you travel up to north QLD. Everything just turns green. Basically Malanda falls is a huge set of water falls that branch out from the rainforest and into a large swimming hole. Here are a few pics I took: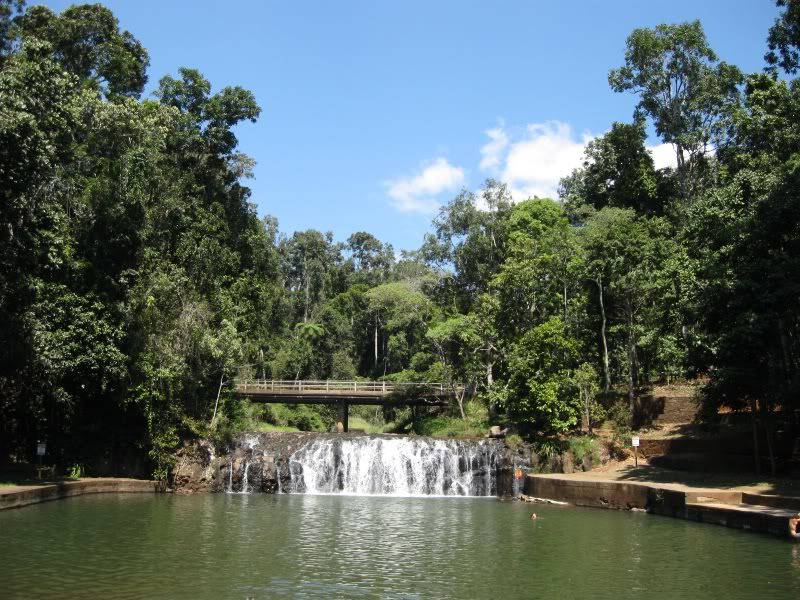 This is the water fall. You can see it really good from the road above as well. That is also the swimming hole. But it was way to cold to hop in so we never went in.
Nice collection of green rainforest trees and a concrete bridge. It's actually bigger than it looks when you walk across it.
This here is a small creek that branches off from the swimming hole. It's full of small fresh water fish. Some random fella told us platypuses can be found in these creeks. But we never found any.

This one will probably appeal to CW since she likes her birds. I caught this bush turkey as it ran past us. I see these guys all the time though. One lives in my suburb; I see it nearly every week. They can definitely run fast…not fast enough from the camera though.

So yeah if anyone is planning on going to Australia I'd recommend Malanda falls be a stop. It also has a place with cabins and villas so families can stay there. See my country isn't that red anymore is it.