Last I checked, not too long ago, the schtack server was up, though there weren't many people around. A pity, but then a lot of people like myself stopped after an update made things really buggy.
But I'm not really too bothered now. While I understand there are some who think PSO is better than PSO2, I don't really see how you can compare the two. I mean, here's a shot from PSO. Then compare it to the rest below. And the video gives an idea of how PSO2 plays. For a start, the days of missing an enemy, with say a sword attack, and getting smacked down are over. Or the fact that Dark Falz no longer casts grantz. Or that said tech doesn't lock onto you and kill you outright at lower levels. Though I will say that having to stop in place to use a health drink, or any other healing item, in PSO2 does bug me, especially since there have been a good deal of boss fights where I've done that only to be either knocked out or hit so hard that the benefit of it is redundant. But at least moon atomizers revive several people at once, and not one person. But there's no rever either. And weapons can only be ground to 10+...but it costs money now. A lot of it. But then the effects are actually worth it. An extra 5-600 S-ATK on my 11* sword for a total of around 500k meseta? Yes please.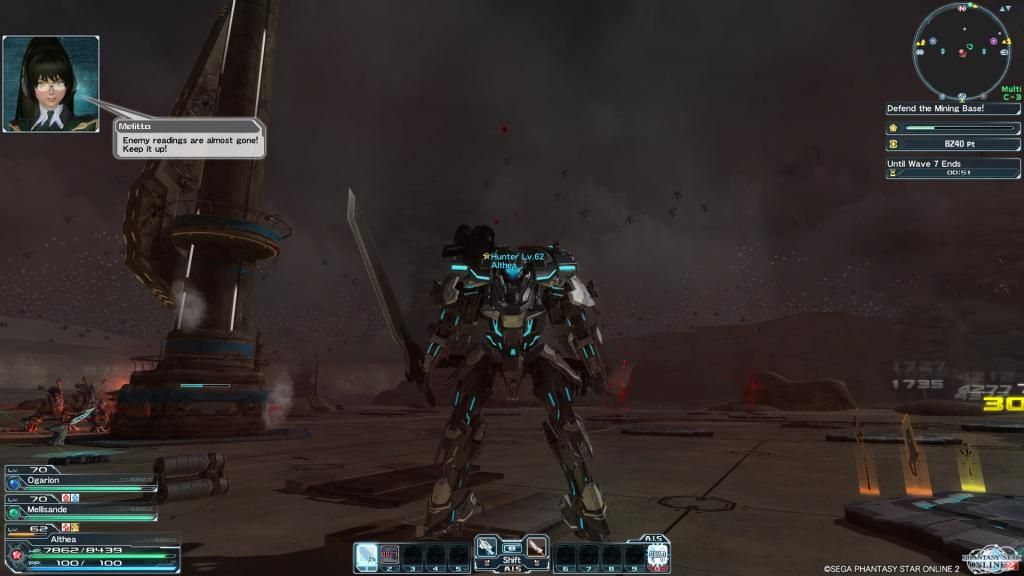 Oh yeah, there are mech suits available too, but only in one certain emergency quest. They're fun.

Also, vidya:
So no. I don't play PSO anymore. And anyone who does and says they do because it's better than PSO2 is an idiot. Or has a really,
really
crappy rig.
Also: Wow! 'Crappy' isn't censored? Amazing!