So, on to Sen's Fortress- here's a conversation I had with my advisor about it the first time I gave it a go.
Me: Help- Where's a Starmetal sword
Me: I need to send these Serpent men back to another dimension
D: Hahahaha.
I kinda wished that show had come at a time where it was okay for Conan to just kill a guy once in a while.
Now, if Blighttown was a lesson in Dark Souls, Sen's Fortress turned out to be an <i>education</i>. The difference between everything before Sen's Fortress and Sen's Fortress, is basically more or less the same thing that happens when robots start to show up in Phantasy Star 2. The old solutions just aren't really going to work as well as they used to, especially when the dangers in the indoor portions are largely of a more Castlevania variety- the only thing missing were medusa heads, and those probably weren't in there only because they would have been killed by the fact that whoever Sen was managed to get swinging blades on bulk discount. pretty much any treasure I found was by accident, and killing two of the Prowling Demons was more of an act of desperation, and then there was that problematic snake mage by that walkway- you know the one. I had to ask for help for that, and the answer was:
"Have you tried poison arrows?"
Of course I hadn't- it's not like poison was ever useful in these games, and my longbow was mainly for attention-getting purposes. But it turns out that poison is the patient man's weapon, and was good at sorting out all manner of problems I didn't want to deal with both in Sen's Fortress and later on- the snake men, the firebomb giant, the Anor Londo archers, and all other sorts of difficulties that would've been a pain if I didn't use arrows and time. The firebomb giant is the only one I killed there- it just felt wrong to shoot the others, they were only doing a job. It'd be like shooting the doorman and the porter. Even though I could've summoned Tarkus to flip the Iron Golem off of the roof I decided to take it out myself- and even though the Iron Golem is one of the game's easier bosses, it was still the only golem boss fight I've ever had that I've felt was worthy of the name.
And I kinda wish there was an item that told us who Sen was. The place is the gateway to Anor Londo, seriously.
The approach to Anor Londo is pretty much item one of what I talk about when it comes to difficulty in Dark Souls being rewarded with something, which is more interesting places and things to see and do. Getting to Anor Londo seems to have been carefully constructed to make the player feel that they're actually getting somewhere in the game, which is quite an important thing, especially in a game where a player is liable to have to try certain segments five, ten times or even more.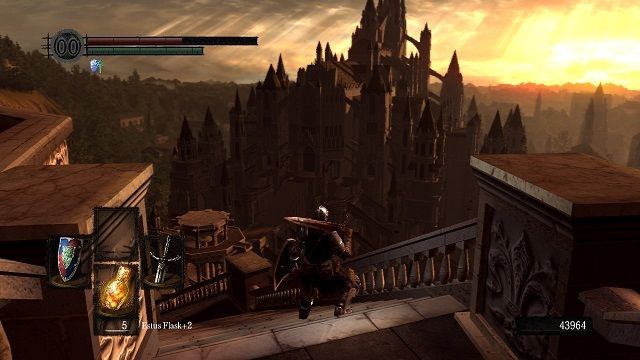 Anor Londo: Where the Sun is always shining.
Anor Londo is also filled with detail of its own- The main staircases there actually have two differently-sized sets of steps, one for regular humans and one for Gwyn and his mighty servants, like the Silver Knights, Artorias, and the other Greater Men. However, going back to the above, it's also the place where the player is likely to have to redo segments a fair number of times (or unfair, as the perception may be). I've played enough 3D platformers so that the rafters section wasn't too big of a deal for me, but the rest of the Anor Londo defense seems to have been designed by someone enamored with Fire Emblem 4, as there was heavily-armored everything running about. Sword knights, spear knights, and perhaps most notorious, the famed Anor Londo archers. I might've been able to charge them if I was willing to give up my knight's pride and drop armor, but I wasn't- so in time, the poison came out.
Inner Anor londo was not without its own dangers, like this game's absolutely wonderful version of mimics, but I was also a danger to myself. I found Seigmeyer again, and I found out that I would really like to disconnect Mouse and keyboard controls when playing the game sometime. Because, sometimes, when you re-select the game by clicking inside the window, your dude will do an attack. Thankfully, Seigmeyer is tough enough to take anything you can hit him with.
One visit to Oswald later, the journey continues. One thing I like is that Siegmeyer's equipment is actually not all that good for dealing with Silver Knights.
Or, the journey would continue if it weren't for the fact that this is Anor Londo, and the most notorious section in the came is also occupied by probably one of the most notorious pairs of bosses in action gaming right now- Dragonslayer Ornstein and Executioner Smough. Perhaps I did go a bit overboard in wanting to show them all by beating those two solo, (and I also wanted to kill Ornstein second for his armor) but it just wasn't working out- and I figured that this was a good time to take a break as any. Not just because of my boss troubles, but because playing Dark Souls could be a little nervewracking at time.
It turns out that a break is what I needed- I came back, swallowed my pride, grabbed Brolaire, and sank Jonah and the Whale on the second try out. It's amazing what a little refresher can do.
A fair interpretation.
Not much to be said about what came next. Yes, there were the usual scattered messages of "Amazing Chest Ahead" before Gwynevere, but I didn't mind that so much- there were at least as many of those before Andre of Astora in the Undead Parish. But I'm always a fan of fast travel- It's probably the thing that I considered the best feature addition to the XSeeD re-release of Ys: The Ark of Napishtim, and the fact that it meant I would never have to set foot in Sen's Fortress ever again was just gravy. This was followed by a flurry of cleaning up some things that I probably ought to have done much earlier, like killing Pinwheel and saving Dusk of Oolacile, but back when I could do those things right away, I did not feel that I was yet a bad enough dude. I also went into the Demon Ruins, but it turns out that there was a bit of blockage in the way. Besides Ceaseless Discharge, of course.
So I set the Lordvessel and did what needed to be done to save Solaire. I know this kept me from talking to Darkstalker Kaathe, but there's only so much a guy can do on a first playthrough.
I decided to give the Duke's Archives a shot. This would be my first time dealing with Seath, as I had never played King's Field, but I figured that Seath couldn't be that tough. After all, he ain't even got legs. His buddies on the other hand were something else, what with the channelers and their silly dance, and I think I picked up enough crystal swords in that playthrough to last Cecil Harvey all the way to retirement. I also managed to completely miss encountering Big Hat Logan throughout the whole game because I didn't find him in Sen's Fortress, but From could offer me free games for life and I would not deal with that area again in that playthrough. I do like the whole tower of books look whenever it shows up in a game, though.
Now, Sieglinde- A couple of things. First, why so cute voice game. Second, she is probably the toughest adventurer you come across, because, first, you meet her in the Duke's Archives, which is one of the big endgame areas. Second, Sieglinde is not undead like the player and the other pilgrims, like Lautrec, Siegmeyer, and Solaire, she's still just a normal human- which means that she can't resurrect at bonfires like you can. It's at this point I decided to sidetrack and finish out that quest line.
I gave Siegmeyer his moss, and went further down to explore beyond where I had the first time around- Now, Ash Lake is pretty much why I wouldn't mind it if From Software decided to do a Final Fantasy game someday. It's the only area that has ambient music 100% of the time, which already makes it alien from the rest of the game- and the second part is that they decided to leave in a piece of what the world was like before the coming of the Age of Fire, with the towering archtrees and the lake and, of course, one of the everlasting dragons. It's shame there's not all that much to do there unless you're doing a covenant or keeping up with the Siegs.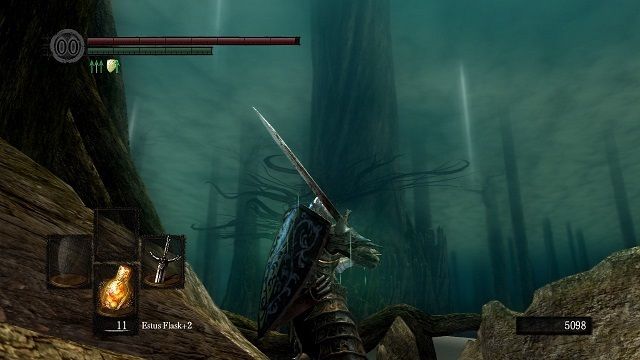 All I want is a little piece of Ancient.
Seath wasn't too much of a problem, and I only found out why I had such an simple time of it later. My default ring layout is the Slumbering Dragoncrest Ring and Havel's Ring, and apparently the first one makes things rather difficult for the poor beast. I neglected to get the Moonlight Sword because I wasn't a mage, and I didn't want to have to risk crawling through the Crystal Cave again, and I'm sure I'll be able to pick it up in some other game. It has appeared in every other From Software game, and that does include Metal Wolf Chaos.
Lost Izalith was the next target, but I only found out after I had killed the Centipede Demon that apparently opening up the shortcut by giving Humanity to The Fair Lady closes off the main door to Lost Izalith. Speaking of which, the Centipede Demon is one of those wonderful Fromsoft creatures that I have to take some time to construct a good picture of what it actually looks like, even though it's right there. Anyone who has played Bloodborne probably knows what I mean. Lost Izalith itself wasn't too bad, all told- I managed to backstab Kirk, for one, and took the time to properly finish Siegmeyer's quest. But the real trouble was with the Bed of Chaos. Because I am, apparently, a moron.
Destroying the root to the left was no problem, but the one to the right, I just couldn't reach. After a few deaths I was like- "Man, I sure way there was some way to deal with its attacks other than rolling, because that just keeps on failing." And then it clicked, and the little nag at the back of my head went-
"USE A SHIELD YOU MORON!"
It's true, though. Pretty much since I finished Blighttown the first time, I had been two-handing my weapon almost exclusively, so my shield slot was basically my Stamina Regen slot, as the Grass Crest Shield had occupied the spot on Adol's back for so long that it had enough time to go from a mere resident alien to a naturalized citizen of his rearguard. It was probably overkill to go through the process of building Artorias's Greatshield, but I had the STR for it, and minus a couple of platforming mishaps later, the Bed of Chaos was done.
Getting to the Four Kings was a bit trickier, not just because ghosts are spooky. there was a particularly unpleasant surprise when I first went to the lower areas of New Londo that was not enemy-related, when I decided to have myself a good look at the "ground" I was walking on. Sometimes it doesn't pay to have an eye for detail. Still it is an effective piece of visual storytelling concerning the New Londo flood. I actually had some trouble with the Darkwraiths because they were quick, they were aggressive, and not especially loud either, and a lot of what I used to fight Black Knights didn't work. So I was like- "Man, if only there was some way to take the heat off their attacks and gain some space to strike back. And then that little nagging voice came back.
"USE YOUR SHIELD YOU MORON!"
I knew I built that thing for a reason. I tried to do the Four Kings fight itself all proper and fancy-like, but that just didn't work out, so I threw on my heaviest armor, took the sword in both hands, and was like "Bring it!" And the Four Kings were like "Oh no, we can't bring anything."
So, tip: If you're interested in facerolling the Four Kings, bring Havel's armor. At least on regular New Game.
I had saved Gravelord Nito for last because of two reasons. First, it has been established by an important man of letters that skeletons are both spooky and scary, and Nito is a skeleton made out of skeletons with a sword made out of more skeletons. The second is that I don't like the idea of areas where I can't see anything further than ten feet in front of my face, even with the Sunlight Maggot's help. The Rastin Mines have got nothing on the Tomb of the Giants, and that's not even considering the Skeletal Beasts. Paladin Leeroy (real subtle there, Fromsoft) wasn't too bad, and I'm still wondering how Patches ever manages to trick anybody.
Which brings me to a last Tangent- I like how you find the sets of other classes in places that they probably would die if they were the player. You find the sorcerer set in a place full of undead dogs and assassins which could easily rush one, down, you find the Knight Set near the Hydra which he certainly wouldn't have the sped or agility to defeat, you find Cleric Set near where Patches is in the Catacombs, and so on and so forth.
Nito was not difficult- I'm sure that he hits like a truck, but he is just slow beyond slow- I had plenty of time to heal when I got hit by his other attacks, so I wasn't all that worried from the get go. Finishing him off wasn't hard.
So, with the big four knocked off it was time to...
Oh yeah, this is the Prepare to Die Edition.
Time to head off to the DLC. Can't be that bad, right?
(continued)