Introduction
Hey everyone. Atlin here. Just so you know this is my first Review in the history of well, me. Recently a friend of mine, Kathis, has reintroduced me to the great gem that is Magician's Quest: Mysterious Times on the Nintendo DS. So what's this game about you ask? Glad you asked.
Story 8/10
Unlike Animal Crossing (AC), Magician's Quest(MQ) has quite a bit of story. At first it is simply slow by you having to learn spells and such, but later on it grows to be more. As you progress, you will start uncovering mysteries and solving them too. While they aren't necessary to progress with the story, they still are fun to do.
As you progress you can make friends with those around you and go hang out. If you're lucky, one of you're friends will confess to you. But if you don't want to wait, feel free to confess to them yourselves.
Gameplay 9/10
One of the greatest aspects of this game is learning spells and incantations. However, in order to learn these magical tricks, you'll have to go to class and learn them. While you may repeat the same lesson more than one time sometimes, it is worth it when you finally taste that new spell to unleash upon the villagers. >=D
Whether it be simple pranks, or changing the weather, there is quite a bit of fun to be had with these. Although the back cover of the game says there are over 100 spells to learn, I highly doubt that fact but it is still fun none-the-less.
Another fun thing to do is go fishing or even bug catching. You can then take your catch to some giant books which eat them and reward you for your find. This is a great way to make Ritch so you can buy new clothing, instruments, and furniture for yourself.
And if you can manage to get online, I say go for it. Travel to a friends town where you can shop, play music, games, or even have a duel with each other as you cast spells at each other.
Sound 9/10
MQ has a vast variety of music and sound to go through and play with. While the DS may make the sound suffer a little, it is still pretty great. If you're ever bored, head on over to a Juice Bar called "The Limelight" and learn songs to whistle along to or even play instruments to. Others can join you too in your song. However, you better get learning, because there are over 70 songs to discover.
Graphics 9/10
For the most part, MQ has great graphics. For those who played Animal Crossing you'll feel right at home. Aside from the odd pixelation when you're up close (which can be annoying sometimes) there is nothing wrong with the graphics.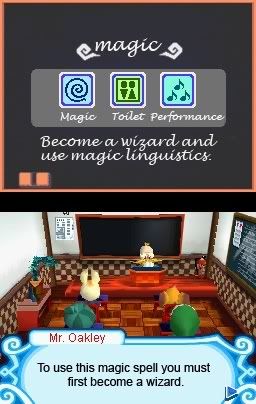 Re-playability 10/10
This is a great game to have and play. While it does get a bit boring after awhile, if you set it down for a week and pick it up again you will feel a new sense of excitement. Unlike Animal Crossing, there is lots to do and see in this world. With a vast variety of characters to meet and communicate with, you'll find yourself lost in a world of magic as you go on to become a great wizard.
Overall 9/10
Magician's Quest is a great game to pass the time with. With it's vast variety of things to do, this is a game that would do great in anyone's gaming library. Since I feel like keeping it short and simple, I will quote a friend of mine who can sum this game up in one sentence. "It's like Animal Crossing on crack."
If Thoul feels that last sentence is inappropriate, all he needs to do is tell and I shall change it.