The Timeline of Accepting Fate (

period

):
-Plus other news regarding sequels.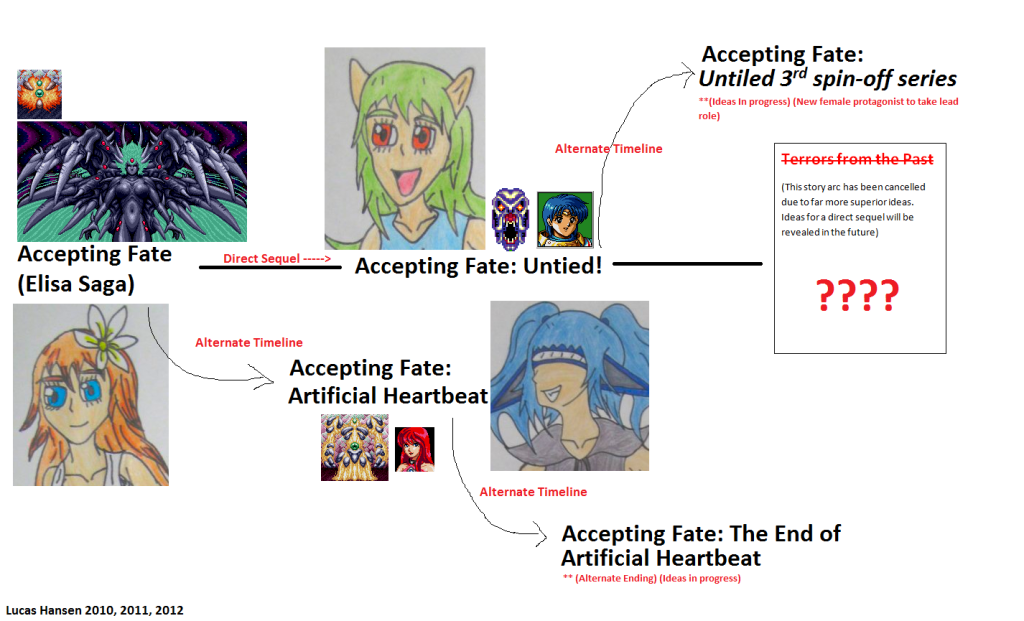 Okay time to do some rambling about my fan-fiction series and what the current situation is:
Okay so this timeline I have here is basically the outline of how my Accepting Fate stories flow in order. As you can see the Artificial Heartbeat saga where DG is the main character is a spin-off series, which starts directly after my original Accepting Fate story finishes in an alternate timeline. Untied! however starts exactly where the original story finishes and is set in the exact same timeline.
The game sprites of characters (and bosses) you see next to story titles actually appear in those stories of mine.
Now...
As you can see Artificial Heartbeat will be receiving an alternate ending. Once again not a direct sequel so there will be two endings to the one fan-fiction. It will be a rather short story (I'm aiming for 3-4 chapters in total); pretty much picking up a few chapters before I finished my original Artificial Heartbeat storyline. The ending I have in mind is what I originally intended to do from the very beginning. It's a little more
tragic
than the ending this fan-fiction currently supports.
I also have in mind a completely new spin-off saga dealing with a new female lead character, this story takes place in yet another alternate timeline after the events of Accepting Fate: Untied! As for the new female lead, let's just say I have the word "shocking" in mind for her. Her first name is Velvet and she will be a human character in her late teens. That's all I'm revealing for now. Don't expect to see this up and running at least until the alternate ending to Artificial Heartbeat is done.
Finally As explained on the timeline I created, The Terrors from the Past story arc has been scrapped entirely. I still have all my old notes from 2010 briefly outlining that arc, but in those two years or so, I've thought of so much more stuff that could work way better as a direct sequel so I'll be going ahead with my new ideas in that department when I get other things out of the way.
I truly apologise if anyone is completely confused, but to those you who got something out of this I'm glad. Also don't think I've forgotten about the possible sequel to Alpha: Origins because of all that is coming along smoothly; but as it's not related to Accepting Fate I won't be discussing that here.
Thanks for reading everyone.